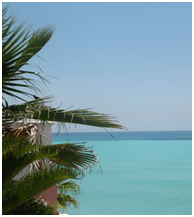 Most business travel is not to places like Bermuda shown in the picture.  Rather, you may find yourself rushing to a busy city that you feel you don't have time to see.
Business trips can be interesting, but they can be demanding.
Tips for business travel
Keep a packing list
Buy travel sized toiletries as soon as possible on your return
Always have a bag of toiletries that is ready to go.  Having a standard set of items will save you time.  Be sure to follow the 3+1+1 rule required by the United States Transport Security Administration (TSA) that is widely accepted internationally.  This requires that all containers can have no more than 3 ounces of fluid by volume (actually 3.4 ounces or 100.5 ml), all containers must fit into 1 quart-sized transparent bag, and only 1 quart-sized (1.1 liter) bag is allowed per passenger.  Exceptions are allowed for medications and expressed breast milk.  Any fluid in excess of the 3+1+1 rule must be declared.  Here is a handy site for converting other units to metric and vice versa.
Travel light so that you don't have to check bags
For travel to multiple destinations or an overnight stay even if your bags do not completely disappear, if they are not at baggage claim when you arrive, you may not have time to get the items that you need.  It can be expensive and embarrassing.   There are interesting sites covering how to travel light, use one bag, and that give tips on washing your clothes when traveling. For long trips, although expensive, you may consider using your hotel laundry service to help you travel light and use only carry on luggage.
Check the weather forecast for your destination
The Weather Channel has some useful business travel tips and provides current and longer term forecasts of the weather.  This will help you with your packing and your arrangements at your destination.  If storms or bad weather are expected you may be able to make backup arrangements for your business meetings.
Consider immunizations and medications
For international travel make sure that you have the appropriate immunizations in good time before your departure.  For destinations where malaria is prevalent you will need to take preventive medications and likely before, during and after your trip.  During the flu season, it is best to be current on your flu shots.  Traveler's diarrhea is a common enough problem during international travel that you should be prepared.  The Center for Disease Control and Prevention (CDC) has excellent information for travelers. If you take prescription medications, make sure that you will have an adequate supply that covers the possibility that your return trip may be delayed because of unforeseen circumstances.
Take steps to lessen jet lag
Check the time at your destination using the World Clock.  There are useful websites that address jet lag including the National Sleep Foundation, the US National Library of Medicine, and MedicineNet
Carry some cash and bring an ATM card
Carry US dollars or pounds Sterling.  If possible obtain some of the destination currency sufficient to cover ground transportation and other expenses.  ATM cards can generally be used to obtain cash, and the fee is usually less than currency exchange services.  Charles Schwab and others have an ATM card with which you will be reimbursed for ATM service charges.
Place your presentations on a thumb drive
If you have problems with your computer, or internet access to obtain your documents on the cloud, you can use someone else's computer at your destination.
Bring an electrical adapter for international travel
You don't want to arrive at your destination and find that you can't charge your mobile phone or your laptop computer.  A number of electrical adapters are available.  It is best to use a "universal" adapter.  These are adapters that work in many countries.  It is better to have one which is all in one unit than a collection of adapters.
Carry your laptop computer and important documents on board
Never check your laptop, unless it can't be avoided. It is more likely to get damaged during baggage handling than when you carry it yourself.  Also, it may be stolen from your luggage or your bags may be lost or delayed.  If documents that you need at your destination are not available, you will have problems.  If the documents are bulky and there is no other way to do it, it is best if you have electronic copies on your laptop.
Wear business attire on the trip if you have a meeting within hours of your arrival
You are wearing your jeans and your business clothes for that key meeting are packed in your checked luggage.  You are planning to go straight to your hotel, check in, get changed and go straight to the meeting.  Unfortunately, your bags are lost or delayed.  What do you do now?
Schedule some time to see your destination or connect with people you know
You may never return to some destinations that you visit on business trips.  Try to take some time to see more than the route to your hotel and business meeting.  If you know people at your destination, this may be a chance to visit them, meet them for breakfast, lunch or dinner, or go out sightseeing with them.  Take the time to make plans before you travel.
Travel safety
When traveling, steps can be taken to address your safety.  Click on the following link: Travel Safety
Top 10 travel destination
See this interesting site for independent travelers.  It has interesting information and excellent pictures.
Travel on a shoestring?
The Vagabondish site has loads of interesting information on traveling in a basic and inexpensive way.  If you want to travel around the world with a minimal budget while staying sufficiently connected to your clients, this is the site for you.