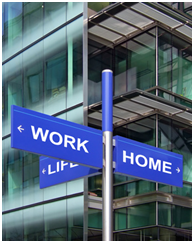 While the life of an independent consultant, in principle, can provide more flexibility, this will depend on your circumstances and the way in which your structure your work.  Working on an hourly rate and attempting to maximize your income could set you up to spend most of your time working.
A home office can be an advantage because of time saved on commuting, but there is little pressure to leave the office.  If you break out to get dinner, you can bring it back to your desk.  After feeding the pets, taking care of the kids, or whatever, there is no commute to discourage you from heading back to the office.
To balance your life takes some planning and discipline.  Planning exercise, social activity, and other aspects of your life is important.  Scheduling rest and recreation into your daily life is crucial.
WebMD offers 5 strategies for better work-life balance.